The kids are back in school, life has returned to normal, and you finally have a moment to breathe, step back, and take a moment for you. At LFID we are firm believers in the immortal words of Donna from Parks & Recreation, "Treat Yo Self". You have earned it.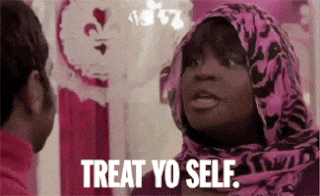 So, we are going to break down a perfect Treat Yo Self Day in three different DMV neighborhoods ensuring that there is a convenient option for everyone to get out there and enjoy a divine day of decadence. We're kicking things off with the district nearest our LFID offices - Bethesda.
Photo Credit: Tout De Sweet
Begin your Bethesda Treat Yo Self Day at Tout de Sweet pastry shop. This French style pâtisserie looks just as sweet as its treats taste with an aesthetic that is straight out of a Tiffany & Co. jewel box. Chef Jerome Colin opened Tout de Sweet with his wife, Sofia, with "an emphasis on showcasing a contemporary French approach on daily creations and his spin on the classics". In doing so, he has managed to provide Bethesda with some of the most glorious pastries in the area.
Photo Credit: Cera Wax Studio & Laura Fox Interior Design, LLC
After you indulge in some of the delicacies found at Tout de Sweet, make your way around the corner and Treat Yo Self to the best waxing experience of your life at Cera Wax Studio. Sisters Monica and Anna Gomez are long time friends of LFID after they brought Laura on to help out with a number of personal and professional design projects.
The Bethesda location (they also recently opened up a second location in the Mosaic District) has been around since early 2013 and since opening has consistently been ranked as one of the best waxing studios in the DMV. This incredible reputation can undoubtedly be traced to the sisters' 20+ years in the industry and commitment to creating the best experience possible for their clients.
Use promo code FOXY20 when booking to get 20% off your next service!
*Valid through 9/30/18
Photo Credit: Gringos & Mariachis
A block away from Cera is one of Laura's all-time favorite restaurants, Gringos & Mariachis. This delightful cantina features some of the best tacos you will find in the area with creative takes on classic flavors in a space that feels authentic to the style and concept without getting into the kitschy decor realm that you see from so many Tex-Mex eateries. Take your pick of an assortment of different salsas and margaritas, all of which are positively delightful and make sure you try Laura's personal favorite dish, the Carne Asada!
Photo Credit: Fit Body Boot Camp North Bethesda
After gorging yourself on mountains of sweets at Tout de Sweet and Tex-Mex food at Gringos, hop in your car and take a quick 10 minute drive up Wisconsin Avenue to work off some of those calories at the North Bethesda location of Fit Body Boot Camp.
Owner Wendy Lai "found passion and balance as a member of Fit Body Boot Camp" in California. "The combination of cardio and strength training in every workout proved to be both challenging and rewarding", Wendy says. Most of all she loved the sense of community which prompted her to open her own location upon moving to Maryland. You might even see some of your favorite Foxy Ladies from LFID while you're there - our office is just upstairs!
Email Wendy at wendy@northbethesdafbbc.com and reference Fox Tales to get one week of classes free!
We hope that you will fall so in love all of these amazing local businesses during your Bethesda Treat Yo Self Day that you will head right over to the website for Bethesda Magazine's 2019 Best of Bethesda and vote for all of them!
While you're there make sure you pencil in the name of a certain Foxy Lady for Best Interior Designer! Voting closes this Friday, September 14 so Treat Yo Self and these local businesses by voting!
Stay Foxy!
Xoxo
Don't forget to follow us on Instagram @laurafoxinteriordesign!